The three works were compiled especially for the rooms of "Der Mixer"gallery by the berlin | raum für videokunst agency platform.
Nils Löfke: People Doing Moves
2017, Video, 8:36 min
The video piece "people doing moves" shows a group of young men clad like Hipsters carry out short movement sequences. In the process, they use their bodies in unusual and at times humorous ways, forming individual or social sculptures in space for a short or final moment.
Nils Löfke studied Film, Performance and Time-Based Art at HfbK Hamburg from 2012-8. He is a member of the artist collectives Hä*Wie!? and Taet Vremya & Birdmilk.
Ida Lennartsson: Offal
2017, Video, 9:42 min
Ida Lennartsson made the recordings for the video piece Offal in the district where she lived, the former red-light district of Yokohama, during a stay in Japan. They show her naked body in a sparsely furnished apartment, surrounded by empty plastic bottles and piles of scrunched up tissue paper. Something doesn't seem quite right, the body appears oddly disconnected from reality, while the fluids and used tissues point to its being infected, but what with?
The reduced movements are based on the minimalistic, existential formal vocabulary of Butoh-dance, which Lennartsson studied intensively during her stay in Japan. The protagonist is focused on her physicality in a strange way, oscillating be- tween sensibility, suffering and self-assertion.
Ida Lennartsson was born in Sweden in 1982. She currently lives and works in Berlin. She studied Fine Art in Oslo and Hamburg. In her art practice, Ida Lennartsson looks, among other things, at the body and physical processes. In doing so, she highlights elements of vulnerability and decay that carry a taboo or are associated with disgust in the way the body is usually portrayed in the public realm.
Benjamin Zuber: Not No Horrorcore Shit
2014, Video, 10:14 min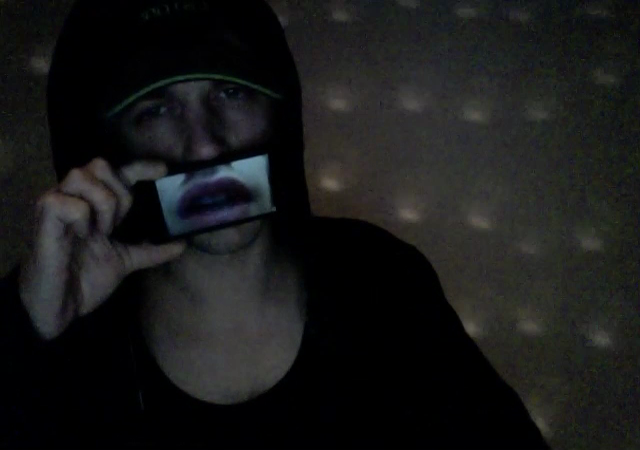 The video's title refers to a line in an underground HipHop song, the menacing melody and driving beat of which can be heard throughout the piece, a line that is repeated twice: "Let me put my cape on, my rubber and my mask up. Not, no horror-core shit, this is porno-core" (Kool Keith "Sexstyle"). The video was shot using a MacBook Webcam. We see a light-skinned young man in a black hoodie and baseball cap sitting in front of the laptop in a dark room, his face lit up only by the pale light emitted from the screen. As the music begins to play, the protagonist raps the original song lyrics in a karaoke style performance, visibly struggling with the speed, the sharp rhythm and the obscene vocabulary of the original song, which is politically incorrect in every way. From the second and third attempt onwards he gains confidence.
Benjamin Zuber, born 1982, lives and works in Berlin. He studied in Karlsruhe, Vienna and Nuremberg among others. In his videos and performances Benjamin Zuber often employs test designs he himself becomes part of. Though the processes involved may be played out conceptually, they only become reality when made physical – which in turn is a procedure with an uncontrollable outcome.